Curtin Living Memories: Kerry Lucre and Ron Graham
Interviewers: Viola Kalokerinos and Annie Duke
This recording is dedicated to the memory of Kerry Lucre (06.05.1953 – 26.07.2015). At the time of this recording Kerry was a resident of the Curtin L'Arche community where she had lived since February 1986. She was a much loved member of L'Arche to which she had belonged since 1982. Ron Graham has lived in Curtin within the L'Arche community for over 30 years. L'Arche is an international federation of faith communities where people, with and without an intellectual disability, share life together. L'Arche is a French word for the Ark. The L'Arche community in Canberra had its beginnings in the early 1970s. It has had a presence in Curtin since the early 1980s. Viola Kalokerinos is a well-known Curtin business woman and prominent member of the local community. She is also a Member of L'Arche. Annie Duke is the Community Life Co-ordinator at L'Arche.
Main topics covered in the interview
Introduction about L'Arche and its presence in Curtin; how Ron and Kerry came to live in Curtin and got to know Viola; Viola reminiscences about Ron, Kerry, Vince Kalokerinos and the Curtin Milk-bar; Viola's L'Arche connection; final thoughts about L'Arche and Curtin.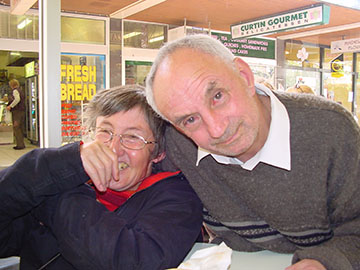 File attachments