OFFICE CLOSED 13 DECEMBER TO 5 FEBRUARY INCLUSIVE. REOPENS TUESDAY 6 FEBRUARY.
Wishing you all a joyous festive season and a happy New Year.
BOOKS FOR SALE For a complete list of all unused books for sale see www.canberrahistory.org.au/get/1245.pdf
Please support CDHS with a tax deductible donation!
BSB 633 000, Account 146 738 141 and your name plus 'donation'. Thank you!
Welcome to the Canberra & District Historical Society
We acknowledge the Traditional Custodians of Canberra and its surrounding district. We acknowledge and respect their continuing culture and the contribution they make to the life of this city and this region.
Founded in 1953, our Society aims to bring Canberra's unique history to you. The society's objectives include encouraging, collecting, researching, preserving, promoting and publishing the history and heritage of Canberra, the surrounding district and the relationship of the national capital with the rest of the country.
This web site helps you find out about the history of Canberra and district through our unique collection and links to other significant sources.
Use the Search function and the navigation links to access our comprehensive catalogue and the rest of this web site.
We wish you an interesting journey into the history of Canberra and district.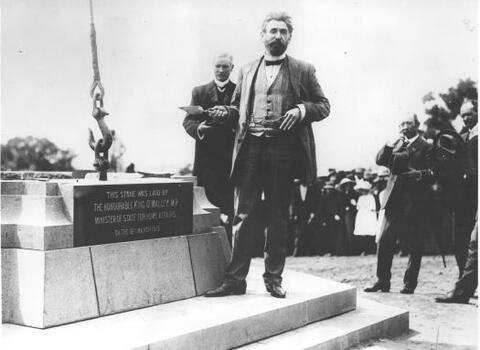 King O'Malley laying the Foundation Stone in 1913. CDHS photo 3737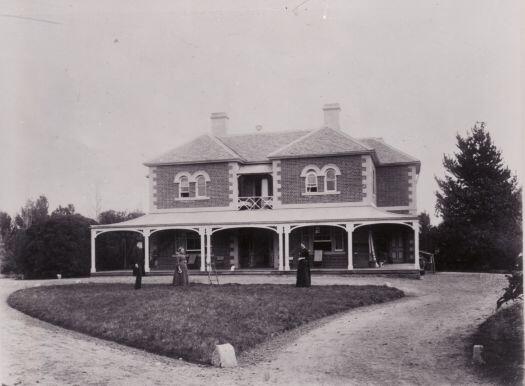 Glebe House (above)
Glebe House was the rectory for St John's Church, Reid. It was demolished in 1956 despite the CDHS campaign to save it. CDHS photo 993 (no date).
ACT Heritage Grant
The development of this website was supported with funding made available by the ACT Government under the ACT Heritage Grants Program.

100 and 200 years ago....
On 1 June 1823 Captain Mark Currie and his exploration party pass through Tuggeranong which he calls Isabella's Plain after the daughter of Governor Brisbane. He goes on to explore the Monaro.
On 11 September 1923 Sir Austin Chapman opens Telopea Park School, the Federal Capital's first new school.
For more events see Time Line (Chronology of the ACT) |
Jefferis and Whelen Journal
The Jefferis and Whelen Journal in our collection is listed in the ACT Heritage Register.For more information see the Guide to the CDHS Collection|