Notice of Annual General Meeting
13 September 5.30pm sharp, Vercoe Room, Wesley Uniting Church Forrest. Begins with recognition of members of over 50 years standing. Followed by Special General Meeting to amend constitution. Concludes with talk by Allen Mawer about Magellan.
Writing and publishing local history - a guide
Members: watch your email for our monthly book sale lists (occasionally more frequent)
Stay safe and healthy!
Welcome to the Canberra & District Historical Society
We acknowledge the Traditional Custodians of Canberra and its surrounding district. We acknowledge and respect their continuing culture and the contribution they make to the life of this city and this region.
Founded in 1953, our Society aims to bring Canberra's unique history to you. The society's objectives include encouraging, collecting, researching, preserving, promoting and publishing the history and heritage of Canberra, the surrounding district and the relationship of the national capital with the rest of the country.
This web site helps you find out about the history of Canberra and district through our unique collection and links to other significant sources.
Use the Search function and the navigation links to access our comprehensive catalogue and the rest of this web site.
We wish you an interesting journey into the history of Canberra and district.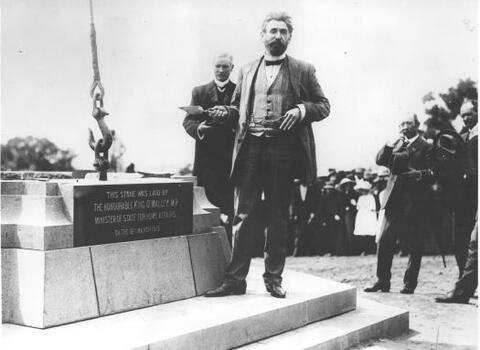 King O'Malley laying the Foundation Stone in 1913. CDHS photo 3737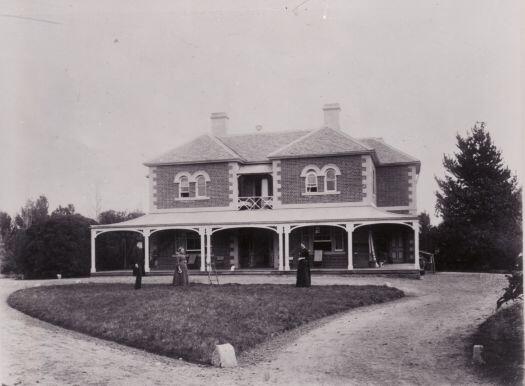 Glebe House (above)
Glebe House was the rectory for St John's Church, Reid. It was demolished in 1956 despite the CDHS campaign to save it. CDHS photo 993 (no date).
ACT Heritage Grant
The development of this web site was supported with funding made available by the ACT Government under the ACT Heritage Grants Program.

100 and 200 years ago....
In April 1821, Charles Throsby reached the Murrumbidgee River near Pine Island in Tuggeranong.
On 31 December 1921, Prime Minister Billy Hughes removed Walter Burley Griffin from his position directing the construction of Canberra.
For more events see Time Line (Chronology of the ACT) |
Fooling Around in Flannels
This is from the exhibition jointly curated by CDHS and the Hall School Museum and Heritage Centre from April 2021. The exhibition is now closed. Cricket on the Limestone Plains
Jefferis and Whelen Journal
The Jefferis and Whelen Journal in our collection is listed in the ACT Heritage Register.For more information see the Guide to the CDHS Collection|