Curtin Living Memories: John and Viola Kalokerinos
Interviewer: Ann Smith
Viola Kalokerinos first came to Canberra from Greece in December 1975. She had only recently married Vince, had no English and was about to start a new life in Curtin, where Vince owned the local Milk Bar. Viola has remained closely connected with Curtin ever since. She and Vince had three children John, Kathy and Matthew. John, the eldest, is interviewed here along with Viola. She worked with her husband, and the children when they were old enough, in the Milk Bar including for 5 years after Vince's death in 2003 when the family continued to run the business. The Milk Bar and its pizzas were an institution in Curtin. A plaque in the square at the Curtin shops commemorates Vince's contribution to the community. Viola has continued to contribute to the local community in many ways and is perhaps Curtin's best known citizen.
Main topics covered in the interview
How Viola came to Curtin; Vince's early years in Australia and his coming to Curtin; Vince's support for his children's education and his commitment to the Milk Bar; staff at the Milk Bar; Viola's first impressions of Canberra; her return to Kythera, her home island, in 2008; Kytherians in Australia; some adventures over the years at the Milk Bar; John, Kathy and Matthew working in the Milk Bar; aspects of Viola's life in Canberra; her involvement in many community activities; John's young family and his community activities; final thoughts about the Curtin community.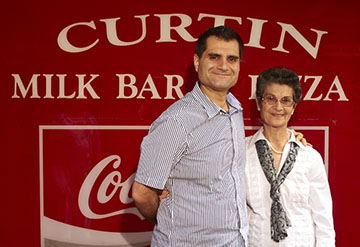 File attachments