Curtin Living Memories: Jenni Lawton and Simon Maddox
Interviewer: Evan Mann
Jenni Lawton and Simon Maddox are well-known people in Curtin. They are business partners in the Beyond Q Bookshop which for almost eight years now has been located downstairs at the Curtin shops, below the fish and chip, wine and fruit and veg shops. They are also partners in life, have a family and live in Curtin only a few minutes' walk away from the shops. Since becoming established in Curtin, Beyond Q has become renowned not only for second hand, old and rare books but also as a destination for live music, coffee, cakes and good food.
Main topics covered in the interview
Introduction; Jenni's family background in books (Fyshwick and Hughes); Simon's background including as management consultant; meeting up and in business together; moving to Curtin to establish Beyond Q and to live; floods at the original Curtin premises; moving into current premises; coffee and cake; live music; business, clientele and the 'Beyond Q family'; establishment of Curtin branch of Bendigo Community Bank; the landlord's development proposal; the raid by the military police; thoughts on the future for Beyond Q.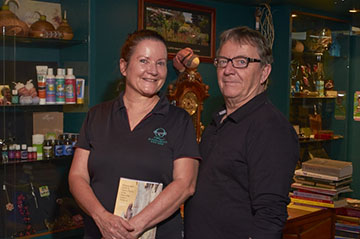 File attachments