Curtin Living Memories: Fay and Michael O'Connor
Interviewer: Mandy Gyles
Michael O'Connor was five when in 1966 with his family he moved into a house on Dunstan Street across the road from the North Curtin oval. His parents Fay (also interviewed here) and Peter had brought their young family to Canberra from Nowra as Peter was taking up a job at the Academy of Science. Michael spent many hours practicing and playing various sports but it was rugby, first played at North Curtin oval with the Hawkes Club, where he got his first taste of rugby. He went on to represent Australia and have an illustrious career in both rugby union and rugby league. Michael and his family live in Queensland but he regularly visits his mum who still lives in the family home on Dunstan Street.
Main topics covered in the interview
Fay's memories of coming to Canberra and life in the early years in Curtin; Michael's memories of coming to Canberra and starting school; sporting activities as a school boy and practicing on the North Curtin oval; Australian School Boys Rugby Tour of the UK in 1977; at 18 selected to play for Australia against Argentina; rugby union career; shift to rugby league; Michael's involvement in rugby since his playing days; Michael's wife Susan and their three children; Peter's death in 2012 at age of 85; Fay's busy social life; some final reminiscences about Curtin.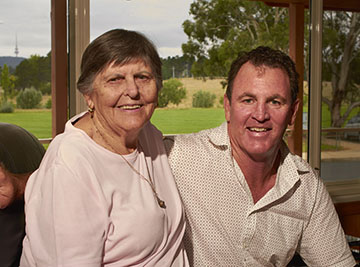 File attachments